RESEARCH DIRECTIONS:
Growing of autologous bone marrow cells
Research methods for harvesting and storage of cord blood, umbilical cells morfoinducive properties. Elucidation of possibility of their use in the treatment of degenerative diseases of the locomotor system, reproductive system, urogenital apparatus.
Manufacturing of composite bone graft (allogeneic demineralized bone grafts decellularised cell) for substiuirea bone defects. Study of new methods for keeping properties morfoinductive demineralization of bone allografts and efficient methods cellularisation.
Scientific Direction
Research regarding autologic mesenchymal bone marrow stem cells, cord blood stem cells. Compozite cell grafts on 3D supports and methods to stimulate the tissue regeneration using cell technologies and tissue engineering. Recombinant human platelet growth factor-BB in maxillar facial bone regeneration.
Goal of researches
The development of methods for separation, prezervation of the autologous and allogeneic progenitor cells. Animal testing of new grafts. The cellular therapy efficacy in patients with degenerative diseases, such as the musculoskeletal system, bone augmentation in the maxillary and mandible atrophy, the treatment of effort urinary incontinence and peritoneal tubal infertility.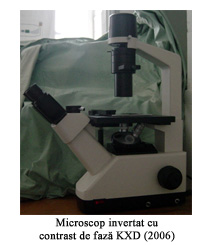 Practical importance:
The cultivation of autologous bone marrow cells.

The harvesting and preservation of the umbilical cord blood, umbilical cells and their morphoinductive properties. Its eficasity to use in the treatment of degenerative musculoskeletal diseases, reproductive and uro-genital system diseases.

Composite bone grafts (allogeneic bone grafts demineralizated and decellazurated + cell grafts) for bone defects substitution. New demineralization methods to save the morphoinductive properties of bone allografts.